What Gets Me Through
Anthony talks about the current COVID situation from a turtle person's perspective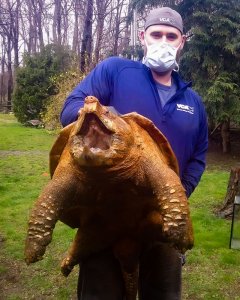 It's a scary time to be alive – a scary time to be a parent, to be a family member of folks in the "at-risk" age, and a scary time to have a household to keep functioning. Still working adds more stress for me, and the need to support and even lead others at a time like this is a challenge unlike any I've personally faced. Most of all, perhaps for me, it's a difficult time to be an "animal person." Those of you who share their home with animals perhaps know what I mean. There are three main reasons this struggle that we share with the world in many ways can also contain added levels of frustration and angst.
China
First on the list is really just something that has me pondering more than worrying. COVID-19 is believed to have begun in a market in Wuhan, China, which has now become well-known throughout the world and has likely put the Chinese province on the map for many westerners.
For me though, this supports the educational talks I have been doing for years. Turtles, my animal of interest, have been at risk of losing many of its species for decades now. A global turtle crisis which involved a vacuum-like effect where animals from around China, Southeast Asia, and now the world have been collected and traded. Many times, these animals are illegally poached and smuggled and for any shipments intercepted by authorities, it is thought the amount of unnoticed shipments of this kind is exponentially larger.
It is an entirely strange feeling to have this information come out to the public in such an important way now. I should feel happy that the word is getting out, as a silver lining during this incredibly challenging time. I'm not sure I do though, because I don't see things changing greatly. Contacts in China talk about uncertainty around legislation in China that could affect these practices in the future, like banning the trade of "wildlife" in the country. Consider however, that the Chinese have different ideas of what constitutes wildlife. Aquatic turtles, for example, are not considered to be wildlife under the new rules from what I have gathered. Please keep in mind this is based on verbal communication at this time.
As an interesting aside, I was planning to travel to Shanghai this year (2020) to give an educational talk at a turtle conference. This is something I was looking forward to greatly. My wife did not let me go last year, citing my FOMO (Fear of Missing Out). She asked, "Why do you think you won't be able to do this in the future?" Now, a few months into COVID-19, and no one really knows what to think about the future, especially regarding travel to China.
Tiger King
A stressor for animal folks these days is the popular NETFLIX Docuseries, "Tiger King". Perhaps second only to COVID in terms of popularity in recent history. The documentary was created by Eric Goode, the co-founder and head man for our partner organization, the Turtle Conservancy. In watching the series, I must admit, I was into it. I personally found it to be quite interesting and entertaining. To me, it was obvious that Eric aimed to highlight a part of the animal world that people really ought to see – the suffering of exotic animals and the shady dealings happening right here at home (USA). Interestingly, timing has this American microcosm of animal abuse juxtaposed against a common-theme backdrop of Americans complaining about how the Chinese exploit rare, exotic, or wild animals.
As with any animal related issue, there are always multiple, sometimes countless, viewpoints and angles to consider. Tiger king is no different and this has led to reviews that were all over the map. Some were thrilled to see a person face justice for their crimes, while others send fan mail to Joe Exotic in prison. Some are happy to see this sort of abuse highlighted for the world to see, which I believe was the main goal for Eric, while others worry about the ammunition that this gives to animal rights activists to fight all zoos.
Being a social worker in the past, I learned to practice empathy at a high level. Apparently I also don't mind giving myself a compliment. But if I put myself in the shoes of the folks on Tiger King, I get it. It's easy to look at their mistakes and point the finger, deservedly so. That's said, at the end of the series, there is footage of a younger Joe Exotic, who appears to do his best to sound compassionate and caring. This, like much of his persona, was likely a farce, but it does point to something really important for animal keepers to consider.
Joe Exotic lost his way. He had an opportunity to do things the right way by himself, his patrons, his staff and most of all, the animals living at his zoo. His ego did not let him do these things and eventually, just like a Martin Scorsese movie, the empire came crumbling to the ground around Joe. As outlandish as he is, take his behavior and learn from it. Not one of us is or the work that we do with animals more important than the larger story surrounding them. We have to be knowledgeable and selfless, otherwise it can catch up to us. I am not comparing him to any animal keeper I have ever seen, but there are opportunities to learn here.
Online classifieds are an example of our work with animals that is as public an account of what animal keepers do as any other out there. Animals are bought and sold, often with phrases like "something else came up, so these guys must go!" Think about what that says about you and others like you. For the private breeders, think about this the next time you hear someone complaining about hesitance on the part of the AZA (Association of Zoos and Aquariums) to collaborate with private breeders of endangered animals.
Generalizations are bound to happen and the truth is, when someone messes up at the public level that Joe Exotic has, there has to be some consequence for all of us. Take this as a warning to be mindful, tactful and careful. It is my preference that my rights aren't eventually ripped away because of the ignorance of others. Animals are not trading cards or collectibles and they should not be treated as such.
To Shop or Not to Shop
Governments across the world, with the public exception of Sweden, have been on some form of lockdown due to the COVID-19 pandemic. This has affected a growing number of people and has had a drastic effect on worldwide economies. Orders are usually to stay home except for essential items, like gasoline and groceries, which is the case here in my home state of Connecticut, USA.
Recently, my family and I moved into a new home. The move was challenging given the considerable charge of animals in my care. Setting things up for them was difficult, as I knew it would be. Still, it may have not been understood going into this journey, just how trying this would be. Many projects took longer than they should have and several others were put off until spring. Our group of Northern Red-Bellied Turtles (Pseudemys rubriventris) overwintered in a 300 gallon stock tank above ground which was not the plan at all. While digging their pond in late summer (2019) my friends and I discovered a rock the size of my car in the spot where the pond was going. So we had to halt the process to allow for the rental of an excavator.
Those projects must be completed now as the weather begins to warm and animals need to be prepared for a transition outdoors. So how can an enclosure be constructed when trips to the store are not advised? Many local home improvement stores are offering delivery, even next day at some locations. Even more are offering curbside pickup of orders as well. This can be helpful for minimizing the feeling that you can't get out and accomplish what you've been hoping to all winter, without putting yourself, your family or others potentially at risk.
Spring is always a time when I myself come out of dormancy and this year was no different. My biggest struggle during this time was the fact that I could look out the window and see the weather turn, but that I couldn't get the things done that I needed to. It caused frustration and even a bit of bickering between my wife and I. She, being the problem solver she is, did the research to discover that I did have options after all.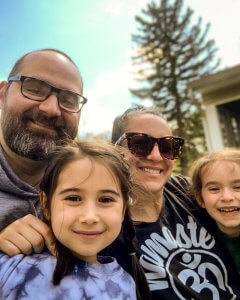 All of these challenges mentioned are added on to what will likely be remembered as the most difficult time in our lifetimes. Albeit small, these items are worth consideration and are enough to put a damper on any animal person's day. Please be mindful and careful.
The one thing that helps me through these dark times is the network of people out there with interests and knowledge like my own, with whom I can share a conversation with, no matter the distance between us. Thank you to all of those who have been a part of helping me through thus far. My family, the animals, and you are the reason I get out of bed in the morning.
About the Author