The Pondcast, Episode 16
Sacrifice
John and Tony bring you the The Pondcast, Episode 16: Sacrifice. Broadcast LIVE through Google+ Hangouts and YouTube, this show brings you interviews and discussions with guests from the turtle and tortoise community, allowing you to send in questions to help guide the discussion. Created to tackle topics related to conservation and herpetoculture, this show will bring you its own brand of hilarity interspersed between the educational and informative discussions that are the centerpiece of each episode. So, join our crew of "turtle nerds" each month for The Pondcast. An audio-only version is also available for download. Visit ThePondcast.com to learn more about the show.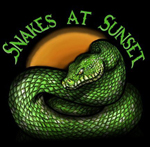 In This Episode…
Most of the discussion tonight centered on a controversial topic — "If you had to pick one species to go extinct to help save other species, which species would you pick?" This topic of discussion was inspired by this article on the Devil's Hole Pupfish.
If you are interested in helping guide the topics and discussion for future shows, please email us at [email protected] with your ideas.
Your Hosts
About the Authors
---
---