Steve stacks up 22 commercial turtle foods against one-another detailing each food's benefits and uses.
Video Added May 1, 2013.
Diet is one of the most important variables in the long-term health of any turtle or tortoise. We're going to dig inside each of twenty-two commercial turtle foods and examine their positives, negatives and uses inside the overall diet of an aquatic turtle. Some are good for staples, others just for supplements, and others we recommend to not even use, if its not necessary. This is by no means a comprehensive look, because there are probably another twenty foods that we won't talk about today. Maybe we'll come back in the future and amend the post with more foods. If there is a specific food we don't cover that you'd like more information on, leave a comment here and we'll add it to a list for future reference. The best of these foods can be found in our own shop (Editor's Note: We no longer sell foods) or from our friends at New England Herpetoculture. If you are still having trouble locating a specific food, please contact us for help.
Many of us are big fans of Mazuri Fresh Water Turtle Diet, but I want to do more than sit here and tell you why you should buy this product. While I will start with Mazuri, I aim to give each of the other commercial turtle foods as much space on this page as Mazuri Fresh Water Turtle Diet. Among the food we'll touch on today are 2 Mazuri products, 3 Aquamax products, 4 ZooMed products, 6 Hikari products, 3 Omega One products, 2 Tetrafauna products, an HBH product and a Nutrafin Max product. As a note, the nutrition information graphics will be updated as I continue to receive information from various companies. These graphics will provide more details than just what is available on the package. I will not touch on feeding methods, times, or quantities. There are already numerous resources out there on this topic, including a few articles at ATP.com.
A couple definitions before we get started:
Staple – Can be used as the largest portion of the diet. Should still not be used as the only food.
Supplement – A food to use as part of a larger diet. Should not be used as the largest portion of the diet.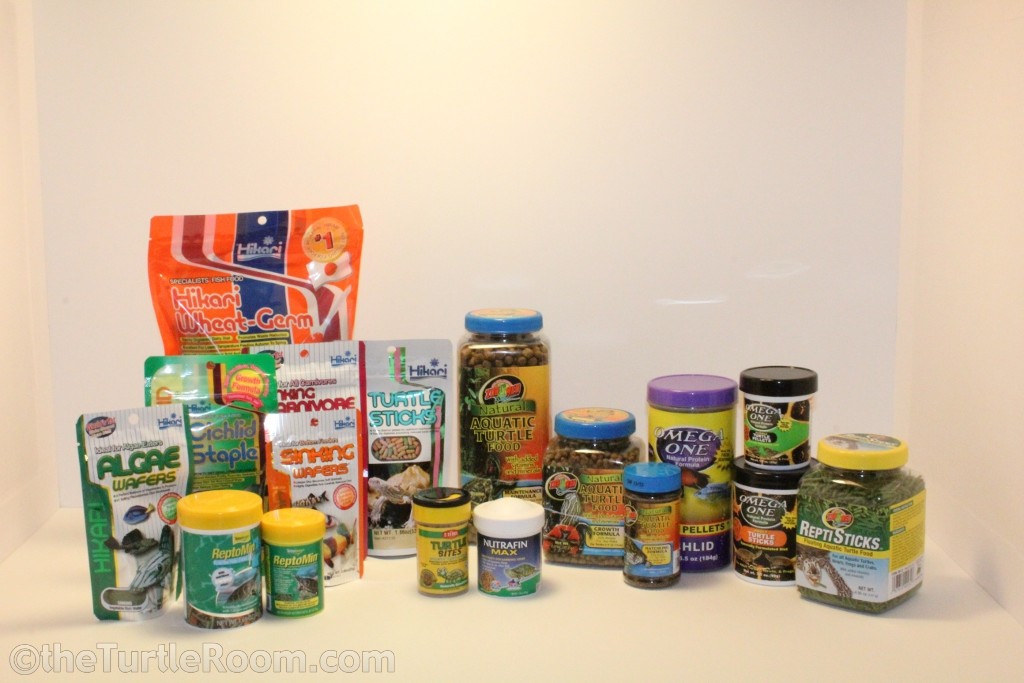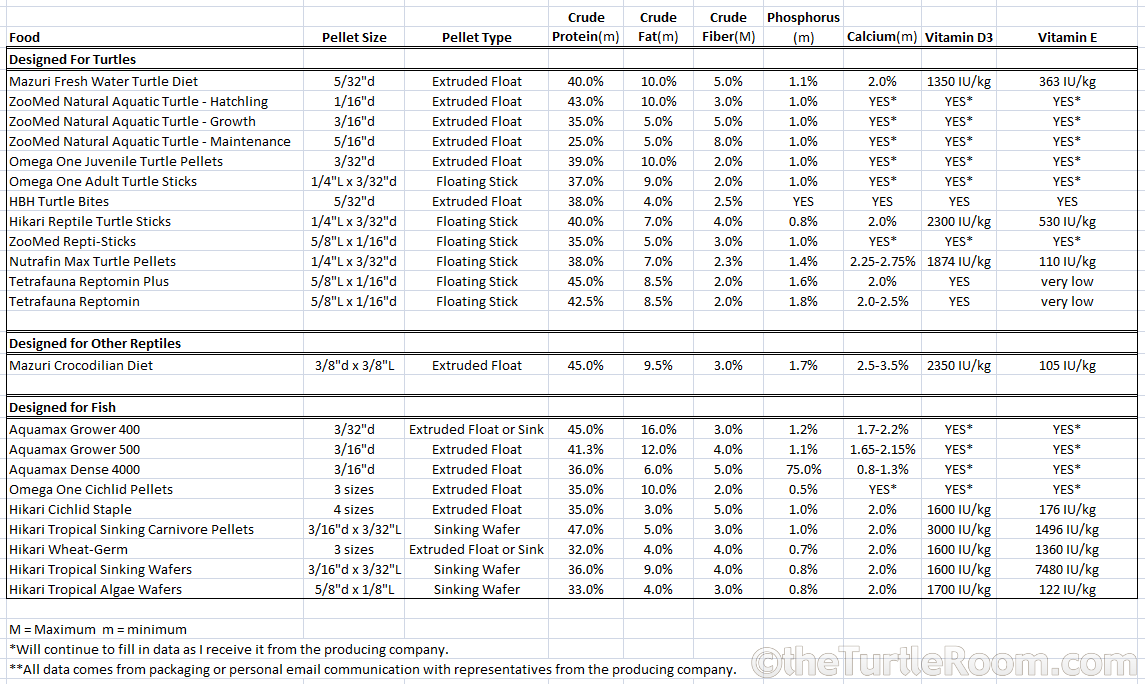 Foods Designed Specifically for Turtles
(We start with those available in bulk packaging, then those packaged toward the small-to-medium scale keeper. Generally listed in order of preference – though the only ones we would recommend staying away from as a staple are the Reptomin line.)
Mazuri Fresh Water Turtle Diet

We consider Mazuri Fresh Water Turtle Diet to be the cream-of-the-crop; not only a quality food, but cost-effective for our needs. The biggest reason for this is that it is a well-balanced diet capable of being a staple for anything from Sliders to Musks and everything inbetween. Mazuri provides high amounts of Vitamin D3 (essential for processing of Calcium) and Vitamin E (essential for shell and skin health). It also provides a good Calcium:Phosphorus ratio at 2:1. I also like that the dry base of this pellet is ground corn instead of wheat. The corn has a bit more greens in it than the wheat and helps it hold together better. This food is low enough in protein that it won't negatively impact more omnivorous or herbivorous turtles, but yet is high enough in animal protein to be a staple for more carnivorous turtles.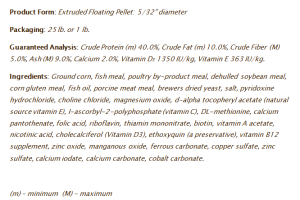 While you could find a better staple for a 15 year-old Cooter, Mazuri will get the job done well, especially for those feeding a large amount of a large variety of turtles. One of added benefits of Mazuri is for large keepers, it can be a cost-saving choice against foods not available in bulk packaging. Other benefits of Mazuri Fresh Water Turtle Diet include its ability to float longer than many other foods while not fouling the water. We also find the pellet is of a size (5/32″d), that when soaked, hatchlings as small as 1.5″ SCL are able to bite into it with ease.
ZooMed Natural Aquatic Turtle – Hatchling
ZooMed's Natural Aquatic Turtle – Hatchling Formula is a fantastic pellet for starting any hatchling on. Its small size (1/16″d) and high protein content make it perfect for small turtles that are beginning to grow (ZooMed recommends it for turtles up to 2″ in SCL). In addition, ZooMed's pellets contain enough Calcium, Vitamin D3 and Vitamin E for a hatchling's proper bone, shell, and skin development.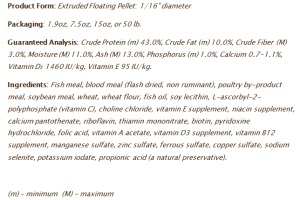 This pellet also contains blood meal, which helps it have an enticing smell to a turtle just learning to eat commercial turtle food. We like to feed high variety to hatchlings, including blood worms, but because of these reasons, this pellet is a great starter pellet. As an added benefit for those of you feeding hundreds of hatchlings, ZooMed offers their Natural Aquatic Turtle line in 50lb. bags (the best way to obtain these is to contact ZooMed.) We also love the fact that ZooMed is keeping it all natural; no artificial colors, flavors or preservatives will be found in this line of food.
ZooMed Natural Aquatic Turtle – Growth

ZooMed had the common turtle keeper in mind when they designed this line of pellets, and the Natural Aquatic Turtle – Growth Formula falls right in line with that mission. At 35%, the protein content of this pellet is perfect for smooth growth in many of the more common species. We highly suggest this line of foods to the small-scale keeper who wants an affordable, high quality pellet without having to purchase a 25lb. bag of Mazuri. Some may say they prefer this to Mazuri because of soybean meal replacing corn meal as the lead vegetable ingredient.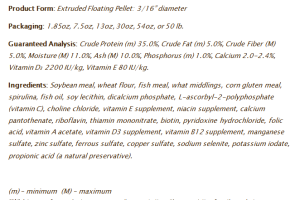 Just as in their other pellets, ZooMed made this formula nutritionally complete: the necessary Calcium:Phosphorus, Vitamin D3, Vitamin E (though we wouldn't mind seeing more Vitamin E), and others. This food stays together well in the water, helping you to keep your tank clean. Just like the Hatchling Formula, ZooMed Natural Aquatic Turtle – Growth is a fantastic pellet that you could do no wrong in choosing for the health of your turtles. Just like the other members of the ZooMed Natural line, this product can be purchased in a 50lb. bag.
ZooMed Natural Aquatic Turtle – Maintenance

This is the pellet for adult herbivorous turtles. ZooMed Natural Aquatic Turtle – Maintenance is, in our estimation, the best – and maybe only – low-protein pellet available. With a lower protein content than even Hikari Wheat-Germ, this pellet is fantastic for herbivorous adults that have (almost) finished growing. Turtles toward the very end of their growth stage need significantly less protein than those still growing considerably, so why feed them the same amount? This pellet provides for that situation the way no other pellet does. They've done a fantastic job mimicking a high-fiber, low-protein diet for older turtles in the way no other company has.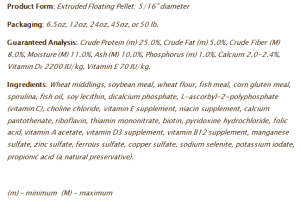 Surprisingly, however, this is the least common variety of their food to find on the shelves in many pet stores. For those of you with adult Sliders, Painteds, Cooters, and other herbivore-leaning turtles, we recommend you find ZooMed Natural Aquatic Turtle – Maintenance somewhere and make it the basis of your turtle's diet. One of the cool parts of a lower-protein staple is it increases your ability to offer tasty treats without overdoing the amount of protein your turtle is receiving. Our only complaint with this pellet is we'd like to see more Vitamin E. For you large-scale keepers, this pellet can be found in a 50lb. bag.
Omega One Juvenile Turtle Pellets

I also consider Omega One to be among the cream-of-the-crop when it comes to commercial turtle foods. The freshness and quality of their ingredients is unmatched. The lead ingredients in the Juvenile Turtle Pellets are whole salmon, whole herring, and black cod. Fresh, whole ingredients have higher nutrient quality and quantity than the processed "meal" ingredients. This pellet has the proper Calcium:Phosphorus ration and contains exceptional levels of Vitamin D3 and Vitamin E.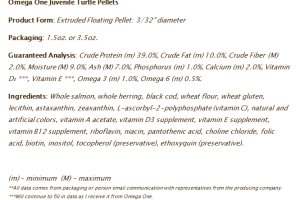 At 39% protein, 10% fat (including Omega 3 and 6), and 2% fiber Omega One Juvenile Turtle Pellets have a terrific balance for active, growing, young turtles. Thanks to these fabulous ingredients, this food is highly attractive to turtles in both taste and smell. It is a great food to get any hatchling started with. We would expect even a picky hatchling will take this food without much effort. The only real negative of this food is its relative cost. For the smallest container size, it costs between 2-2.5 times what ZooMed's Hatchling Formula runs.
Omega One Adult Turtle Sticks

Omega One Adult Turtle Sticks is very similar to their juvenile formula. They stick to the high standard they've set and the lead ingredients are whole salmon, whole herring, and halibut. Just as with the juvenile formula, this pellet is packed with high quality ingredients and nutrients for the utmost in turtle health. For this adult formula, Omega One has done a great job of keeping the protein quantity in check while using these fresh, animal proteins. At only 37% protein, this pellet is a great staple for almost any turtle species.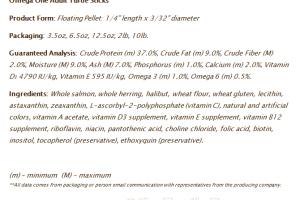 As always it should be supplemented with other foods to provide variety. The one situation where we would highly supplement this diet is for more herbivorous turtles due to the low fiber quantity (2%) in this food. This product's weakness is in its cost, especially for the large-scale keeper. Per pound, the 10lb. bag of this food costs nearly 6 times as much as the 25lb. bag of Mazuri; it might be a better food, but is it 6 times better? All of that aside, Omega One Adult Turtle Sticks are a fantastic food which we recommend highly as a diet staple, especially for keepers with only a few turtles.
HBH Turtle Bites
HBH Turtle Bites are unique among the available commercial turtle foods. We have heard from keepers who love this food. Our breeder Ben has even used them regularly in the diet of many of his aquatics. What makes them unique is the dried fruit and vegetable ingredients that are used. The inclusion of the vegetable ingredients is a huge plus.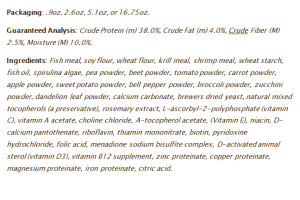 While fruits are common in the diet of many terrestrial turtles, such as Box and Wood turtles, they are not very common in the diet of most aquatic species, so we don't get excited by them. These ingredients are used to provide natural vitamins and minerals and to aid in the taste of the food to even entice the pickiest eaters. Regardless, they have balanced nutrition and it seems that turtles enjoy these pellets. Like many of the better pellets, they do not foul the water like Reptomin does. HBH Turtle Bites are a fine food to keep in your turtle's diet.
Hikari Reptile Turtle Sticks
Hikari is a great brand and we also use some of their fish products; both for fish and turtles. Hikari Reptile Turtle Sticks is another well-balanced food which would be acceptable for almost any turtle. Overall, the ingredient list is impressive; it includes soybean, krill, wheatgerm, seaweed, and spirulina. This combination of ingredients provides a lot of vitamins and minerals in natural ways. Hikari then supplements the food with a number of vitamins to further ensure it is a complete diet. With a good Calcium:Phosphorus ratio, and high levels of Vitamin D3 and Vitamin E, this is another great pellet to feed your turtles. One of the things they do differently is there are 3 different pellets that make up this food; we like their idea between having differently formulated pellets to get the most nutritional impact, but on the negative side, in the case of a picky turtle, you may find a turtle wanting to only eat one of the three pellet types in the food.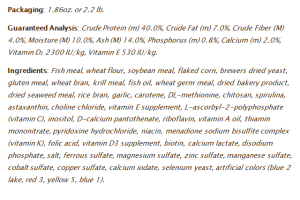 This food also uses a bit of artificial color for the red and green pellets. The other negative is the cost of the product. While it is available in a 2.2lb. bag, the most common package is the 1.86oz. package which typically sells for between $4-5. This puts cost at nearly $40/lb. The 2.2lb. bag, when found runs around $55-60. Even though we think it is a high quality food, due to all these factors we recommend Hikari Reptile Turtle Sticks mainly to keepers with only 1-2 turtles.
ZooMed Repti-Sticks

ZooMed Repti-Sticks are the closest thing to Tetrafauna's Reptomin. However, these pellets use soybean to cut back on the wheat used. They are also lower in protein (just 35%) and have a much better Calcium:Phosphorus ratio than Reptomin does.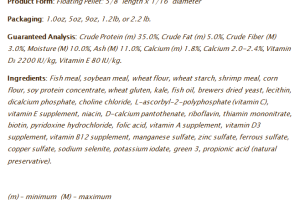 The shape of these pellets is often attractive to turtles. They are are nutritionally complete and well balanced; all-in-all, a respectable turtle pellet. We have never used them, and probably never will. While they're a fine pellet, and far better than Reptomin, we prefer all the previous pellets to these, and ZooMed themselves makes a better turtle food: their turtle-specific Natural Aquatic Turtle line.
Nutrafin Max Turtle Pellets

Nutrafin Max Turtle Pellets are a fine commercial turtle food, though there really isn't anything to get excited about here. We think of it as an average turtle pellet that meets most of the needs of a turtle.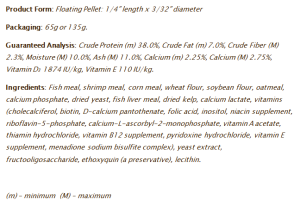 Protein amount is balanced at 38%, Calcium:Phosphorus ratio is good, and the quantity of Vitamin D3 is excellent (1874 IU/kg). However, for a pellet with krill and grammarus, we expected better amounts of Vitamin E – they're a little low for our preference. We'd feel comfortable feeding Nutrafin Max Turtle Pellets, if they were what was available. However, with other better, more attractive options out there, these just don't stand out.
Tetrafauna Reptomin Plus

Tetrafauna Reptomin Plus is listed so low because of how little we like the staple pellet. The bulk of this food is the standard Reptomin pellet we prefer to avoid. While Reptomin provides quality amounts of Calcium, Vitamin D3, and Vitamin C, none of those things set it apart from the other pellets. The biggest positive to the "Plus" version of the food is the addition of the "shrimp bites" pellet. These pellets, while they add more unnecessary protein (especially for sliders, painteds, and cooters) they finally add a relatively good quantity of Vitamin E to aid in skin and shell health.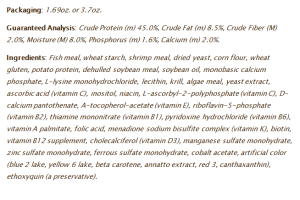 Another negative to Reptomin Plus is it is significantly high in Phosphorus. As I mentioned before, the proper Calcium:Phosphorus ratio 2:1, however, in this pellet it is 2:1.6. We also find that Reptomin falls apart in the water much quicker than many other pellets which can lead to filtration and water cleanliness issues. With no price benefit over any of the staple foods we've already covered we highly recommend picking one of the other foods over either product in the Tetrafauna Reptomin line.
Tetrafauna Reptomin

It is no secret that I am not a fan of Tetrafauna Reptomin. While this pellet is high in Calcium and Vitamin D3, the Calcium does not occur in the proper ratio with Phosphorus to be the most beneficial. This pellet is also lacking in Vitamin E and is abundantly high in starch. Its protein content is significantly higher than necessary for many of the adults it is traditionally fed to; Sliders, Painteds, and Cooters. At 42.5% protein, it is significantly (17%!) higher than other commercial turtle food formulated for adults of these species. We also find it falls apart much quicker in water than many other higher-quality pellets. We have had some bad experiences with this pellet, especially with Sliders, Painteds, and Cooters. In our opinion, this pellet being designed for many reptiles and amphibians works against it being among the best for turtles; it just wasn't designed with them solely in mind.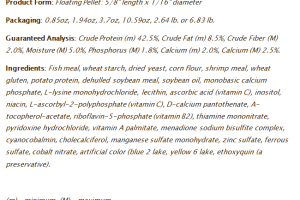 If you do choose to use this pellet, we suggest highly supplementing it with some of the other foods on this page. Among the best choices for pairing with Reptomin are: Hikari Wheat-Germ, Hikari Cichlid Staple, Omega One Cichlid Pellets, and ZooMed Natural Aquatic Turtle – Maintenance Formula. Overall, we think you would be better served spending your money on any one of the other pellets we've discussed to this point than buying another can of Tetrafauna Reptomin.
Foods Designed for Other Reptiles
Mazuri Crocodilian Diet

Mazuri Crocodilian Diet is another solid product from Mazuri. Because it is another product designed for reptiles, it is nutritionally complete for turtles and can be a staple for more carnivorous species. It has more Calcium and Vitamin D3 than the Fresh Water Turtle Diet (including the proper Calcium:Phosphorus ratio), but on the negative side, it has just 40% of the Vitamin E (Though this shouldn't be an issue for more carnivorous species). This pellet is also higher in protein than the Turtle Diet and is very much an animal-based diet. However, this combination of attributes fit especially well with the dietary needs of Snappers, Muds, Musks, Maps, DBTs, and other carnivorous and carnivore-leaning aquatic turtles.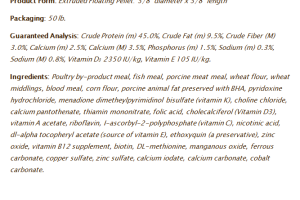 The large pellets are a great size for adults of these species and gives them something they can crunch similar to a mollusk. Many larger species seem to enjoy this food. In addition to the species already mentioned, we've seen Mazuri Crocodilian Diet used for Emydura, Phrynops, and Pelusios species, among others. We plan on feeding this in coordination with Mazuri Fresh Water Turtle, Aquamax Grower 500, and some other foods to our Graptemys species once they are adults. It comes in a 50lb. bag and is a great value for the large-scale keeper.
Foods Designed for Fish
(With the exception of a few of these foods, most of these should not be used as staples, rather as supplements.)
Aquamax Grower 400
Aquamax Grower 400 has the makings of an excellent hatchling to small juvenile pellet. At only 3/32″, it is an easy size for small turtles to eat. It is enticing with a blood scent and 45% protein. Fat is a little on the high side, but a little extra fat, especially since much of it is from fish products and probably includes Omega-3, won't harm a hatchling turtle.
In addition, it has the necessary Calcium:Phosphorus ratio 2:1, and plenty of Vitamins D3 and E for a good diet. This pellet can be purchased in either a floating or sinking variety. Keepers with high quantities of young turtles will benefit most from this food as it is only packaged in a 50lb. bag and sells for a great price around $45. This is a great product for the large-scale keeper looking to save some cash and still get a quality hatchling food.
Aquamax Grower 500
Aquamax Grower 500 is nearly identical to Mazuri Fresh Water Turtle with just some minor difference. We rate this food very highly. It has a little more protein and fat than Mazuri, but is a fantastically balanced food.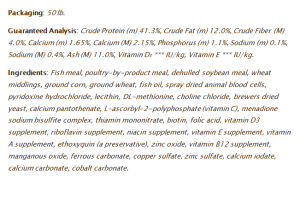 At roughly half the price-per-pound of Mazuri, Aquamax Grower 500 is a great Mazuri substitute for large-scale keepers. It contains everything we look for: Calcium, Vitamin D3, and Vitamin E. In addition, this pellet holds together in water as well as Mazuri and is a fantastic choice of staple pellet, especially for omnivorous and carnivore-leaning turtles. It typically sells for about $40 for a 50lb. bag making it one of the best options for the large-scale keeper.
Aquamax Dense 4000

Aquamax Dense 4000 is a nice, lower-protein pellet that can be used as a supplement or part of a staple diet for herbivore-leaning adult turtles such as Sliders, Painteds, and Cooters. There are other pellets that have less protein, like ZooMed's Maintenance formula.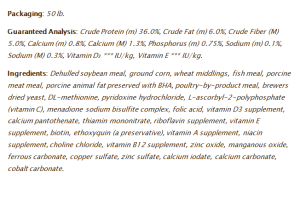 This pellet's largest negative is it is low in Calcium. This slight lack of Calcium is the biggest reason we recommend blending this pellet with another pellet that is designed for turtles to create a staple. Mixing this with ZooMed's Maintenance pellet would make an excellent staple diet for the species previously mentioned. Cost factor included (about $37 for a 50lb. bag), Aquamax Dense 4000 is a respectable pellet, especially for large-scale keepers.
Omega One Cichlid Pellets

Omega One Cichlid Pellets are an exceptionally high quality pellet. We believe if this food were more widely available, they may even be more popular than the highly-successful Hikari brand. While they are a little higher in fat, a lot of that extra fat comes from extra Omega 3 and 6 in the natural fish oils; the result of this pellet containing whole seafood; salmon, herring, and shrimp.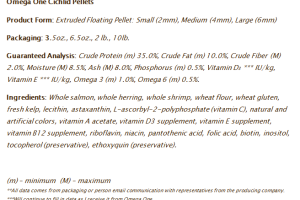 The amount of animal protein in this pellet makes it very attractive to a turtle. We would be very surprised if even the pickiest turtle turned down the scent and taste of this food. Another advantage from the fresh seafood ingredients include the natural pigments in the salmon skins which promote vibrant colors. This food is also lower in starch, which is a definite positive for a turtle's diet. Omega One Cichlid Pellets are a great supplement to any turtle's diet, and could even be used as a staple for many adult species.
Hikari Cichlid Staple

Hikari Cichlid Staple is another quality food from Hikari. It is very similar to ZooMed Natural Aquatic Turtle – Growth Formula in many ways. It would make a fairly adequate staple diet for any omnivorous to herbivore-leaning turtle. This pellet is a little lower on Vitamin E than we think ideal, so we would probably mix in some Wheat-Germ for some extra Vitamin E. Just like the ZooMed Natural line, this food contains a high amount of natural ingredients. This pellet holds together well and does not foul the water; a great benefit to any turtle keeper.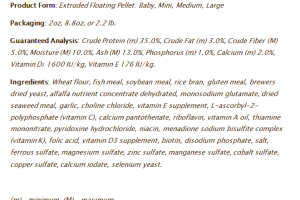 Hikari makes a full line of Cichlid Diets. Try the Hikari Gold for a more carnivorous turtle and the Hikari Excel for a more herbivorous turtle. This whole line meets Hikari's rigid standards for excellence and as an added advantage, come in 4 pellet sizes for turtles of all sizes. For large-scale keepers, the cost of this pellet is a little prohibitive, as the largest size it comes in is a 2.2lb. bag. Especially for those who like to feed a large variety of pellets, add Hikari Cichlid Staple to your list of acceptable foods.
Hikari Tropical Sinking Carnivore Pellets

We are a huge fan of Hikari Tropical Sinking Carnivore Pellets as a part of the diet in our Muds, Musks, and Maps. This pellet is designed for bottom-feeding carnivorous fish which aligns perfectly with feeding styles of Muds, Musks, and Maps who love to dig through substrate for food. We have always liked this pellet, but during our research for this article, we've discovered it has extremely high levels of Calcium and Vitamin D3 for bone health and Vitamin E for skin and shell health – a lot more than we ever though. We now like this pellet even more. High in protein with fish meal and krill meal as the primary ingredients, it is highly attractive to turtles as a starter food. In some cases when a turtle wouldn't get started on ZooMed's Hatchling diet, we have found this food was readily accepted.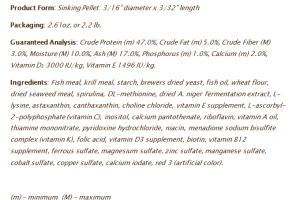 This food is almost entirely natural with only a little bit of artificial color added to retain color quality between production lots. Again, the high cost for this food is a hindrance; $8-9 for a 2.6oz. package and $60 for a 2.2lb. package. Hikari Tropical Sinking Carnivore Pellets are a tremendous supplement for juveniles and a great staple for hatchlings; especially Muds, Musks, and Maps. Hikari makes a larger product called Massivore Delight which is essentially the same food in a larger size.
Hikari Wheat-Germ

I consider Hikari Wheat-Germ to be the best wheat germ pellet out on the market. Quality is mainly what separates Hikari from the rest of the wheat germ pellets. Designed for outdoor Koi feeding during cooler temperatures, this diet is easy-to-digest, but still packed with nutrition. While this food could be used as a staple for aging herbivore-leaning turtles like Sliders, Painteds, and Cooters, the best use for wheat germ pellets are as a supplement to the diet for added Vitamin E and Vitamin A. At 1600 IU/kg, the amount of Vitamin D3 rivals any reptile pellet, while the Vitamin E provided, 1360 IU/kg, is significant enough to cover for any deficiency in another pellet.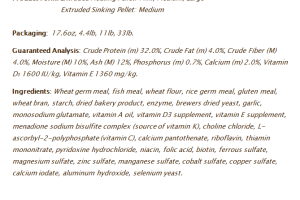 This pellet is especially effective for feeding to turtles with moderate to severe scute retention. In such a situation, we recommend replacing 1/3 to 1/2 of the normal pellet with this pellet. We ourselves have had success with using this pellet to help reverse scute retention in Painted turtles. As an added benefit, Hikari Wheat-Germ comes in three pellet sizes and is available in packaging beneficial to both small-scale and large-scale keepers. It is a great pellet to have in your arsenal.
Hikari Tropical Sinking Wafers

Hikari Tropical Sinking Wafers are well-balanced pellets. We personally prefer the Carnivore version of these pellets, as many of the turtles who prefer the sinking pellets are more carnivorous and prefer more protein in their diet.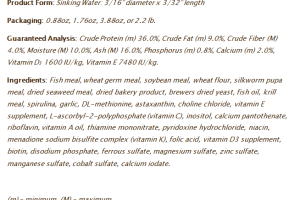 That said, these pellets are nutritionally complete, and one could easily find a use for them. We think their best use is as a supplement to provide variety in a diet. However, not all species will enjoy a sinking pellet, so you may find they aren't taken as readily by animals who prefer surface feeding. A benefit not seen on the surface of this pellet is that it contains a high amount of wheat germ, so they are a great way to supplement Vitamin E in the diet of bottom-walking turtles.
Hikari Tropical Algae Wafers

We like Hikari Tropical Algae Wafers, but they are not accepted by every type of turtle. They are designed for herbivorous fishes including algae eaters and plecostomus.
They contain high amounts of seaweed meal and spirulina and chlorella algae which are very popular for turtles who enjoy greens. The biggest negative of this food is that it is a sinking wafer and many of the turtles that would most enjoy this food prefer to eat at the water surface. This food is entirely natural with no artificial colors, flavors, or preservatives. Low in protein (only 33%) and Fat (4%), Hikari Tropical Algae Wafers is another great supplement, especially for omnivorous and herbivorous-leaning turtles.
*All data comes from packaging or personal email communication with representatives from the producing company.
**I will continue to update data as I receive it from the producing company.
***Individual product photo credit to the producing company.
Data Checked and Updated 8/15/2012.